Where: Arezzo's historic centre.
When: the first Sunday of every month and the preceding Saturday.
What: antiques, quality handicrafts, and more.
Are you an antique lover? Or are you looking for something special and unique to bring back home from your Tuscan experience?
Then be sure to visit Arezzo, where the famous Fiera Antiquaria, the Antiques Fair, has been taking place since 1968. It's the oldest and largest market of this kind in Italy.
The fair features more than 400 vendors and spreads out all over the city centre and into the idyllic streets and piazzas, that are also lined with boutiques and long-established antiques shops.
The exhibitors come from all over Italy and offer a wide and colorful range of collector's pieces of artistic and historical interest, rare objects, collectibles and high-quality handicrafts.
What can you find at Arezzo Antiques Fair?
Anything! The Fair has something for everyone, not only for the connoisseur!
Browse the hundreds of stalls and find true gems such as paintings,  jewelry, vintage and retro clothing & accessories, silverware, chinaware, vinyl records, musical instruments, old-fashioned furniture, antique and modern objects, prints, books and comic books, toys, and much more… from all over the world.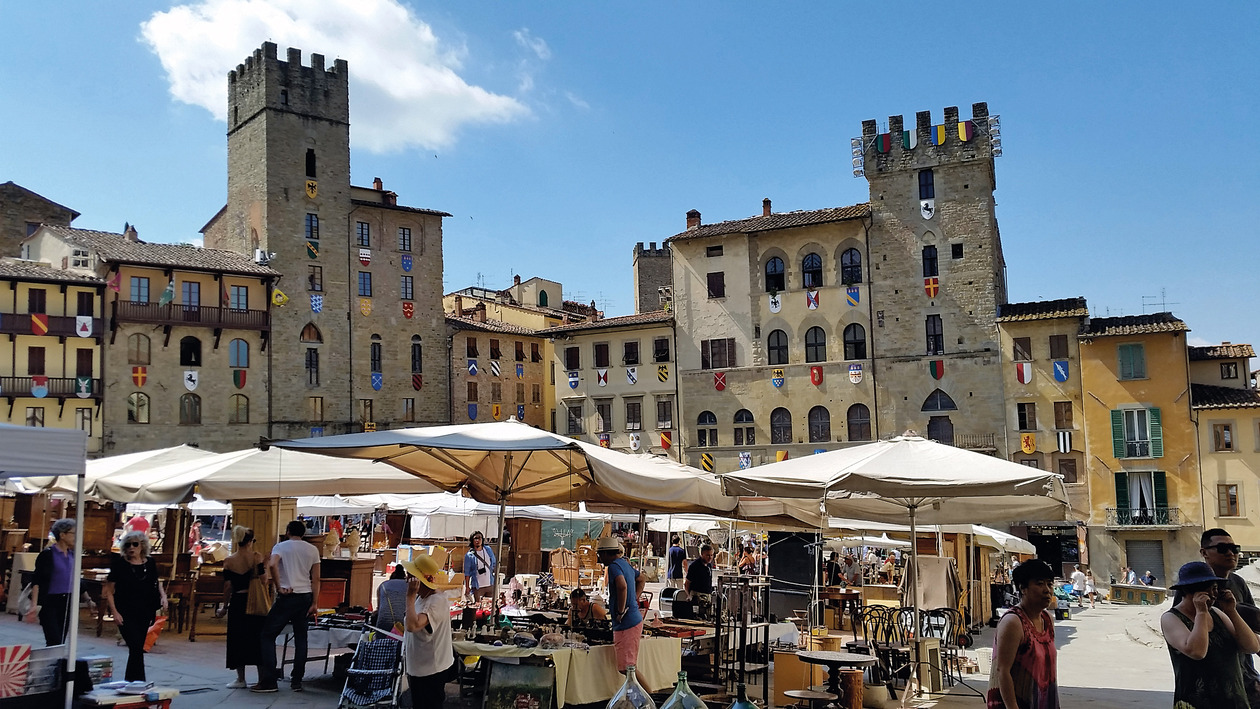 Some things to see and do in Arezzo's historic centre
Have a gelato! Our favorite gelateria is Sunflower (in Piazza San Francesco), where ice cream is made from organic and local ingredients. A real treat!
Relax. There are plenty of cafes with outdoor seating, enjoy some people watching and take in the view on the lively and energetic fair;
The 15th-century fresco cycle The Legend of the true cross, by Piero della Francesca, housed by the Basilica of San Francesco;
Piazza Grande (or Piazza Vasari), the focal point of the fair and one of the places where Roberto Benigni's Life is beautiful (La Vita è bella) was shot;
Arezzo's cathedral and the Medici fortress, a 16th-century architecture located at the highest point of the city.