Twice a year, the city of Arezzo turns into a place where you can travel back in time. It happens when the Saracen Joust (Giostra del Saracino) takes place on the penultimate Saturday of June and on the first Sunday of September.
Not only is it one of the most famous and spirited Medieval Jousting Festivals in Italy, but it also makes the city more beautiful and charming than usual. In the days leading up to the event, Arezzo offers propitiatory and costumed celebrations and parties, while colorful flags and the beating sound of drums add to alleys and squares a picturesque festive atmosphere.
If you're thinking about coming to Arezzo, take into consideration the chance to see and experience its beloved Joust.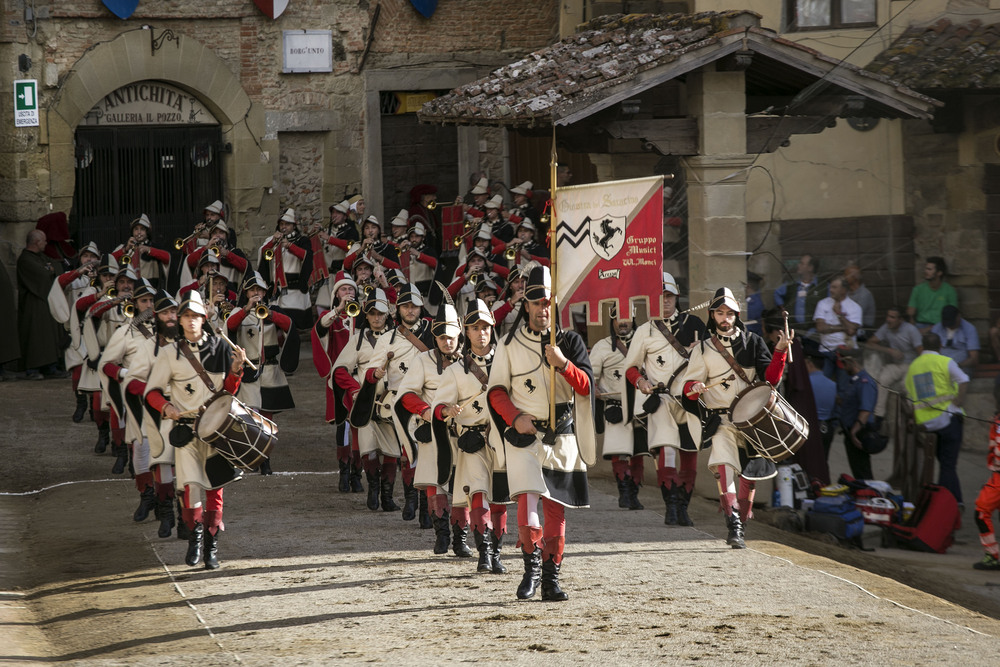 How does it work ?
The tournament is held in Piazza Grande, the heart of the city and one of the shooting locations of the Oscar-winning Life is beautiful by Roberto Benigni. 
The rules have remained virtually unchanged since the 17th century.
The four neighborhoods in which the city is divided - each one represented by two knights wearing the quarter's colors - compete to win the Golden Lance.
When it's their turn, the jouster gallops across the sloping track in Piazza Grande and charge a dummy (called buratto) representing a Saracen that holds a flail and a shield divided into nine sections. Each section grants from 1 to 5 points when hit. After being struck, the dummy spins around - the knight must avoid the balls of the whip!