While traveling through Tuscany, San Gimignano is a real attraction you can't miss. Known as the "medieval Manhattan" or "The city of towers", it is one of the most fascinating towns of our region. Located in the province of Siena, San Gimignano is a small village that counts around 8.000 inhabitants. Since 1990, its historical center has been enlisted in the UNESCO Human Heritage site because it has preserved both its architectural and urbanistic authentic medieval structure. Since San Gimignano has to be experienced in person, no tale is able to make you feel the magic fluttering through its alleys shadowed by 14 towers, nor is it possible to describe the enchanting beauty of its hidden treasures . However, we will try to tickle your curiosity by showing you the most representative places, according to us.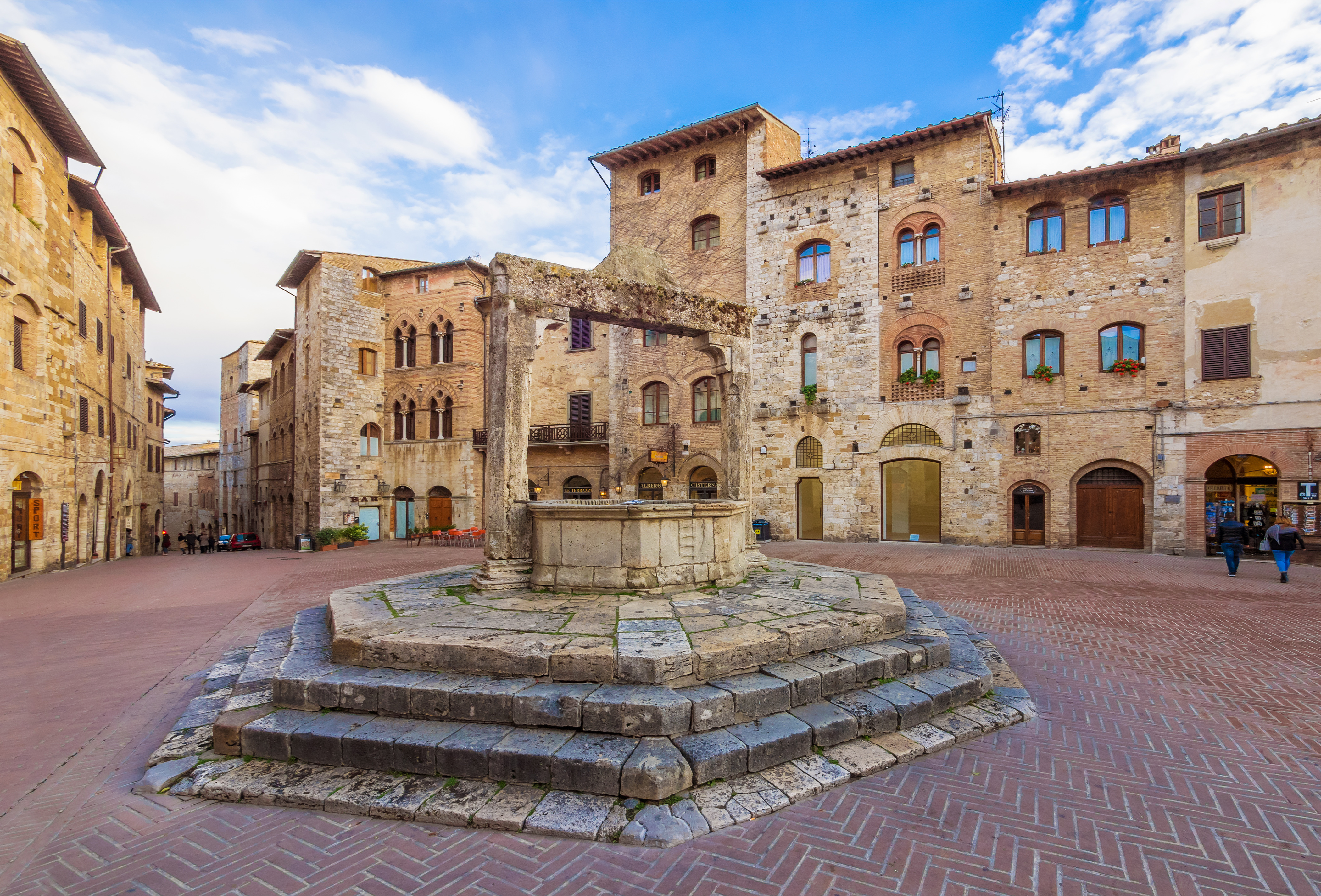 As soon as you enter one of the two doors leading to the center of San Gimignano, you will be magically walking through historical buildings and paved streets that will make you feel as if you were back in time. Tourists walking back and forth along San Giovanni or San Matteo street mark the time of this beautiful town. Walking slowly to discover each and every centimeter of this town, not only will you be able to collect unforgettable postcard views surrounded by an historical atmosphere, but you will also be attracted by the delicious "salsamenteria" smell (a typical butcher's shop) and by the central and lively ice cream shops. One of the latter is the multi award-winning Gelateria Dondoli in the central square, Piazza della Cisterna: here in addition to all the typical flavors, you can find different flavors such as "nuts and gorgonzola cheese", "raspberries and rosemary" or "cappuccino and rum". You can't absolutely miss it!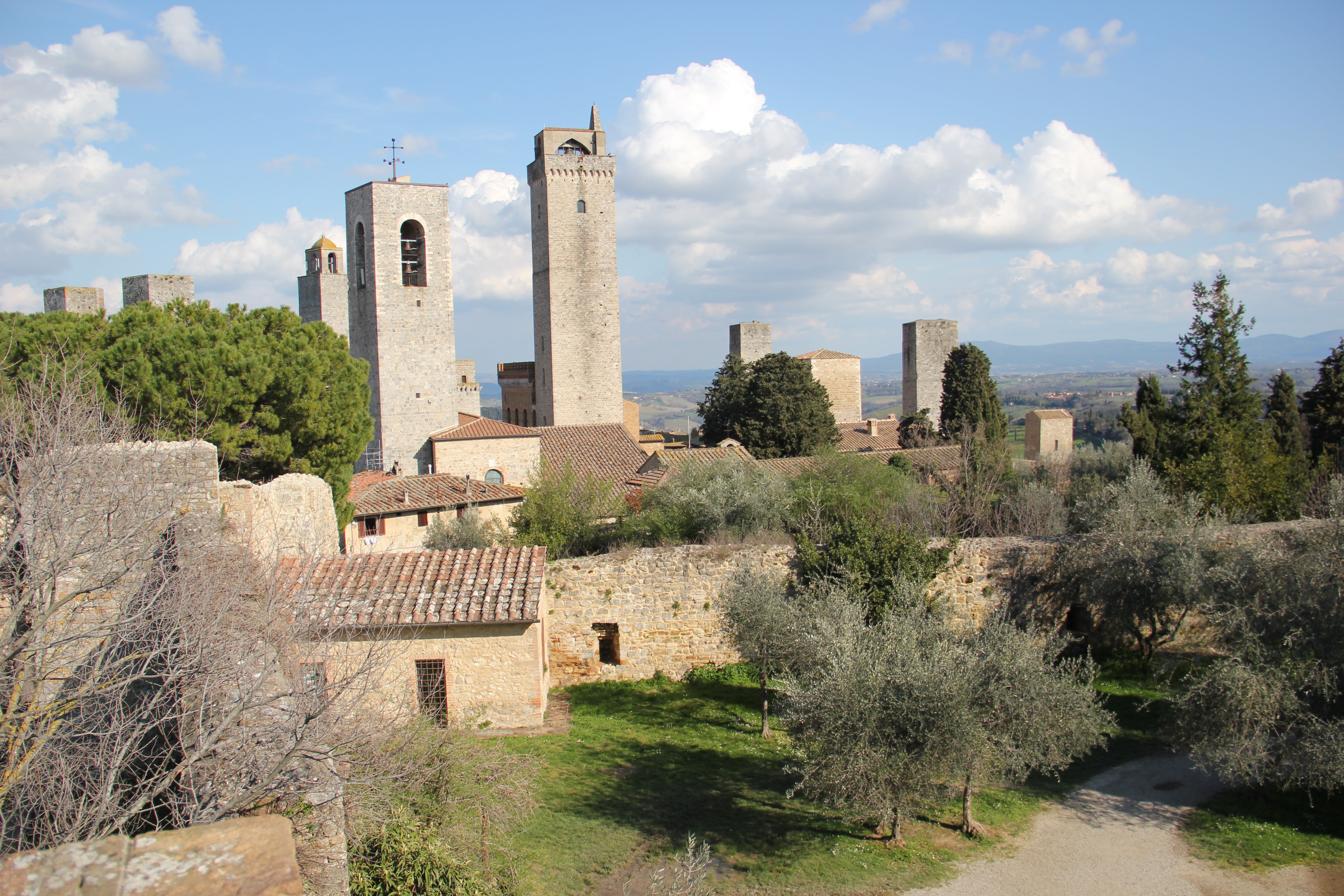 One of San Gimignano most important attractions is Piazza della Cisterna, named after the underground cisterns built in 1287. What makes it worth a visit is the slightly hanging fishbone pavement, its shape as an inverted triangle and the octagonal travertine cistern in the middle of the square.
Another attraction is Piazza del Duomo, really close to Piazza della Cisterna. Surrounding the former there are many interesting buildings, such as Torre Grossa (the city's highest tower), the town hall and Collegiata Santa Maria Assunta. This historical and religious building will leave you breathless with its vaulted ceilings and its "Heaven's Glory" and "Hell's pain" paintings. "San Gimignano Collegiata", which looks like a simple and austere building from the outside, hides a treasure: la Santa Fina chapel, the medieval town's guardian. Inside the chapel there are many precious Florence artists' artworks of the Renaissance.
However, San Gimignano towers are the town's highlight. Since the richest families in Medieval times couldn't afford a luxurious life, they tried to prove themselves by building the highest tower. Today, in the historical center there are still 15 out of the original 72 towers. The most important one is the so-called "Torre Grossa": its 54 meters offer a wonderful view over both the Tuscan landscape and the historical medieval center.
San Gimignano has many churches and monasteries. San Lorenzo al Ponte is an hidden church built in 1240: inside you can admire Cenni di Francesco di ser Cenni's frescoes.
One of the panoramic places which must undoubtedly be considered in your bucket list is "the Rocca of Montestaffoli", originally owned by the bishop of Volterra, where an old and rich market took place thanks to its strategic position. This fort, built in two boundary walls in the XIV century due to a pandemic, experienced a period of decay before being renovated in the XX century; today it's a free access park. Once you enter it, you will find a graceful olive tree grove with a central pit, but the most interesting attraction is surely a small tower from which you can admire one of the most eye-catching views of San Gimignano, ranging from its tower's profile to the surrounding farmland.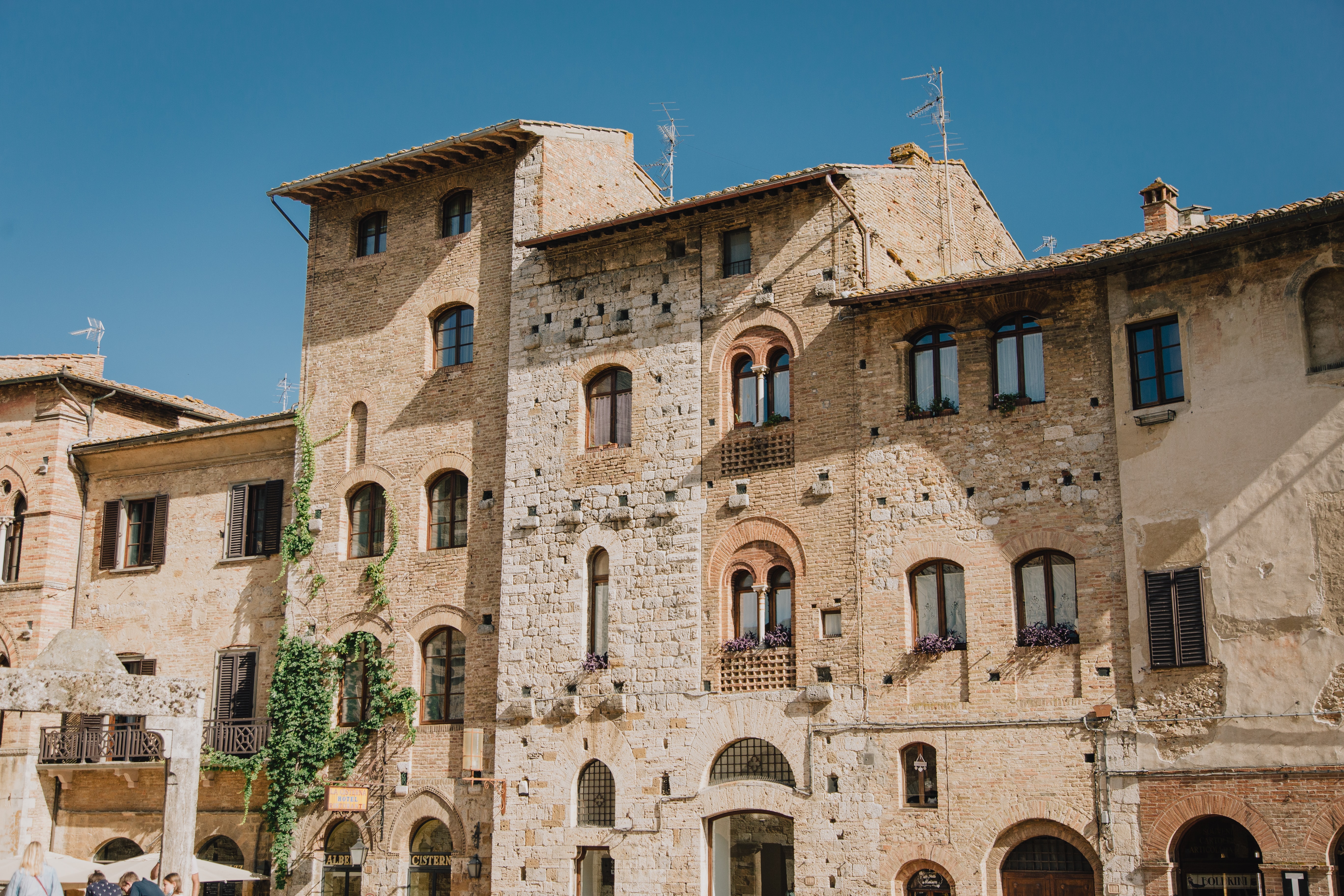 Let's go back to food. One of the highlights you surely have to taste is saffron. Since 2005 it has been a DOP product (the only one to be recognised as such), it is called "red gold" because previously in time it replaced money and it was valued more than lands or servants. For this reason in 1228 San Gimignano town's hall paid part of its debts due to the assault on "Castello della Nera". It could also be offered as gift to ambassadors, kings and queens or to important people, and it's worth mentioning that even part of the town was built thanks to the earnings of the saffron trade. Saffron flowers are extremely delicate and the production process is so unique that it can only be authorized in San Gimignano.
When are you ready to leave?